Sing For You is a video on the Poppy YouTube channel, uploaded June 30th, 2015. It is the 16th video of the Poppy era.
Transcript
Poppy: Hi, I'm Poppy and welcome to the internet.
(wink)
(giggles)
I want to hop on a plane and go to Nashville.
Every life altering experience is necessary.
I can't wait to sing for you again.
I don't even exist.
You're imagining me right now.
I love you.
I can't wait to sing for you again.
Video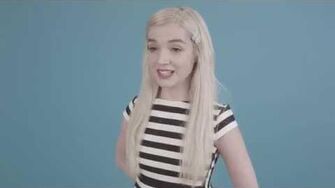 Ad blocker interference detected!
Wikia is a free-to-use site that makes money from advertising. We have a modified experience for viewers using ad blockers

Wikia is not accessible if you've made further modifications. Remove the custom ad blocker rule(s) and the page will load as expected.