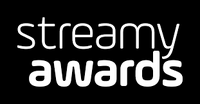 The 
Streamy Awards
, often referred to as the 
Streamys
, are presented annually by Dick Clark Productions and Tubefilter to recognize and honor excellence in online video, including directing, acting, producing, and writing. The formal ceremony at which the awards are presented takes place in Los Angeles, California. They were the first envelope-opening live-streamed award show. The Streamy Awards were created by Executive Producers Drew Baldwin.
Poppy won an award for "best breakthrough artist" in 2017, coming to the event in a clear box accompanied by Titanic Sinclair. Poppy created the opening for the show.
Speech
Poppy: Hello, I'm Poppy. Um, I would like to thank Doritos and Monster Energy Drink and also Nick and Titanic Sinclair and the president is bad.
Titanic Sinclair: Thank you, everybody. Drop out of art school.
Videos
Trivia
It is unknown who the "Nick" is that Poppy thanks in her speech. It could possibly be Nick Groff, as he is thanked in the credits of "Poppy.Computer" and serves as Poppy's manager.